KACHEA offers multiple sports programs for its members.
Details for available sports including basketball, gymnastics, soccer, running club, and volleyball are located below.
Leadership / coach information for each: Leadership Page
Running Club Fall 2020 Season
UPDATE: The 2020 Cross Country schedule for those who are planning to compete has been set. If you have not received a schedule, please contact Coach Olinger or Coach Bradley. At this point, they do anticipate that the XC season will take place.
Also, for those competing this season, please let the coaches know shirt sizes so they can have singlets available for the team. Sizes are available in both men's and women's sizing.
When: Thursday evenings at 6:00 p.m.
Where: Location changes weekly; contact Coach Olinger or Coach Bradley to be placed on the list to receive updates.
For those of you who intend to run competitively this year, Coach Olinger has put together daily running plan to help you prepare for the season. Please contact him for a recommended schedule.
Details: We offer a two-track program that will better allow our runners to achieve their and your goals: a Physical Fitness group and a Competitive group. Please inform the coaches which route you and your student would like to pursue.
Physical Fitness Group: Focuses on basic running technique, overall fitness and endurance. It is appropriate for ages 7+ and all interest levels. No expectation for running/practice outside of our weekly meetings, although such activities will be strongly encouraged. Activities and workout intensity will vary from week to week, as we seek to keep the children engaged. For participating weekly in the fitness club you don't need to be a KACHEA member.
Competitive Group: Focuses on running technique, speed, endurance, form, pacing and overall health. This is appropriate for middle school and high school students who are willing to commit to a schedule outside of and in addition to our weekly meetings. No previous experience is needed, no minimum mile time, etc., only a willingness to work hard and to run for God's glory. Should we have enough interest, we would like to field both a men's and women's cross country teams for the fall XC (Cross Country) season, with the goal of competing in the cross country events in the fall.
NOTE: In order to compete in the Cross Country season, you must be a KACHEA member.
We participate in many events during the summer sponsored by the State of Franklin Track Club if you are interested in seeing what they have to offer please see www.runtricities.org For more information, contact the coaches below directly and get on the email list for locations of practices.
Coach Robert Bradley: robert.37617@gmail.com Coach Travis Olinger: twolinger@gmail.com Leadership: Coordinator and contact info here
Soccer
Eligibility: Boys and girls; You must be a member of KACHEA. If you are not currently a member of KACHEA, please make sure you join KACHEA http://www.kachea.com/Registration.php prior to soccer registration.
Season: KACHEA Boys Soccer is having sign-ups and conditioning/practices Tuesdays and Thursdays from 5 p.m. to 7 p.m.
Players are encouraged to bring a water bottle and a soccer ball. Appropriate shoes (no black soles or cleats) are required for practicing in the gym.
Cost and location:
Conditioning practices are located at First Baptist Church in Weber City. We'll then move the practices outdoors when the weather permits.
2020 soccer fee is $75/player, $50 for each additional player in the same family. Contact Lori Sewall for registration/ questions - 423-754-6464 (gratefulori@gmail.com)
Leadership: Coaches' names and contact info here
Volleyball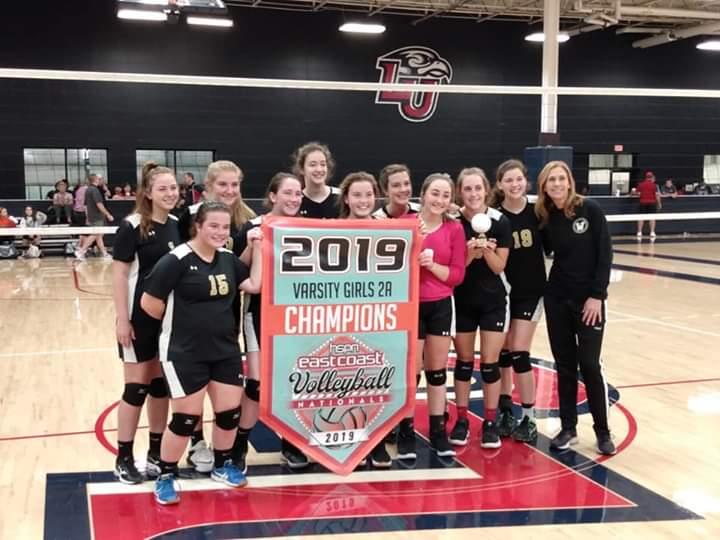 2019 Champions!
(photo: Girls Varsity East Coast National Champions under coach Allison Osteen)
Volleyball 2020
Eligibility: Girls; grades 6-12 during the 2020-21 school year
Season: Open gyms in March, April & May; Evaluations and teams formed in June. Games are in August and September.
Cost: $75 registration fee, due by August 1.
Details: High school teams are now set. Middle school players can still inquire about joining by August 1.
You must be a member of KACHEA to participate. If you would like more information, please contact Ellen West at ellen_west@yahoo.com.
Leadership: Coaches' names and contact info here
Concussion Training
All leaders and parent helpers for sports are required to complete the HEADS UP to Youth Sports online training available here: Nfhslearn.com
Multiple sports and
P.E. classes
Multiple programs are offered through the Kingsport Parks and Recreation Department, including sports teams and homeschool P.E. classes: kingsportparksandrecreation.org/
Another resource for homeschool PE classes is the Kingsport YMCA.