Field Trips and Family Fun
Open to all KACHEA families - See you there!
Scroll down to see them all.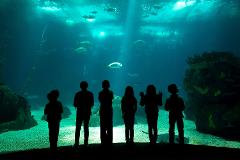 Career and aptitude testing
is being offered by Northeast to the community. Testing is done at home or on site. It takes 45 min to 1 hour. The results don't come to you, but to Mary Beth. She will have a meeting with student to let them know if potential careers path through Northeast.
Mary Beth Oxendine Woodby
Career Development Coordinator, Career Development Services Center
Northeast State at Kingsport
222 West Main Street, Kingsport, TN 37660
Office: (423) 354-5100
Themed Summer Camps at ETCG
$125 a week per child
8:00-4:00 Monday through Friday
Extended care is available in the afternoon for an additional fee.
Contact us to reserve your spots NOW!!!!!
(423)230-1400
etcg1gym@gmail.com
etcgoffice@gmail.com
KACHEA is having our yearly ABC's of Homeschooling!

Where you can learn about and ask questions on how to start homeschooling. Learn about what an Umbrella School is, laws and regulations for TN and VA, and area co-op's. There will be many people to talk with and you can see different types of curriculum and ask questions to other homeschool moms. You can also sign up for KACHEA Co-op school year 2018/2019. We will have a light snack available. If you have questions or would like to participate and come and set up a table and share with potential homeschoolers please call Angela Henson (KACHEA Co-op Director) at 423-341-0554.
First Baptist Church Weber City
155 Shady Elm Lane
Weber City, VA 24290
Time: May 8, 2018
Starting promptly at 7:00pm-9pm.
In the Sanctuary
Guided Nature Hike at Natural Tunnel State Park
Saturday, March 24 - 9:00 - 10:30 a.m.
Location: Natural Tunnel State Park in Duffield, VA - meet in the Blockhouse Parking Lot
Cost: Free
Details: Start off the morning by hiking the Virginia Birding and Wildlife Trail at Natural Tunnel State Park. This guided hike will lead you into various habitats and we may even see some wildlife along the way. Discover why this unique trail is such a vital part of the ecosystem. Be sure to wear sturdy shoes, feel free to bring your camera or binoculars. This is a 0.7 hike, lasting about an hour. Free. This field trip is for any family that wants to attend. There is no KACHEA coordinator for this event.
KINGSPORT BALLET SPRING BALLET
Date: Thursday, April 12 at 10 a.m.
Location: Eastman's Toy F. Reid Employee Center
Details: This year they are performing the "Dreams' scene from the ballet "Don Quixote" followed by the contemporary ballet "Seeds of Change." "Seeds of Change" was first presented last year in celebration of Kingsport's Centennial. However, the subject matter is not limited to Kingsport. Set in 1917, it focuses on the industrialization of Appalachia, World War I and the women's suffrage movement. It's a great way to tie history with the arts.
Cost: FREE for students and teachers. For groups with 20 or more students, adult chaperones are free. The cost for extra adults is $10.
Reservations: Debbie Taylor has 25 seats already reserved and anyone can join that group by contacting her at gabbiethree@gmail.com OR You may alsoreserve seats by contacting Amy Ramey at punk.rock.mommy@gmail.com. You may also go to Kingsport Ballet's website to download the reservation form.

https://www.kingsportballet. org/seeds-of-change/

https://ballet2017.wpengine. com/wp-content/uploads/2017/ 10/SCHOOL-PERFORMANCE- RESERVATION-FORM-SEEDS-2018. pdf
Other field trips and family fun are in the planning stages.
Check back for more!
We love getting together as a group. If you have an idea for a field trip or fun activity but have never coordinated one before, simply contact the overallfield trip coordinator, Debbie Taylor, for help and guidance in planning one.
To announce a field trip or family fun activity on the website and in the KACHEA newsletter, contact Rachel Underhill (rjunderhill@yahoo.com).