Field Trips and Family Fun
Open to all KACHEA families - See you there!
Scroll down to see them all.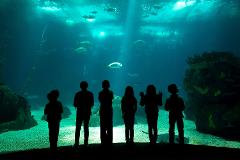 Home School Day at Northeast State
CANCELED. We do not currently have any information regarding rescheduling. Please stay tuned.

Northeast State is hosting its annual Home School Day event on Tuesday, March 17, 2020 at the Blountville campus. Our guests will learn about Northeast State admission and majors, dual enrollment opportunities, the Honors program, financial aid & scholarships and much more. The highlight of the day will be the Student Q&A Panel where current Northeast State students who were homeschooled will field questions about their experiences here at Northeast State. Dual Enrollment faculty with also be on hand to answer questions about the classes they teach and how they are conducted. Campus tours will be offered at 12:15 PM to conclude the program.
If you'd like to attend, please call Sheila Jackson at 423.323.0229 to reserve your spot. You can also RSVP via email to skjackson@northeaststate.edu. Please include the following information: name, address, phone #, email address, number in your party including the grade level of the student(s), and your home schooled affiliation. The deadline to RSVP is Friday, March 13th. We hope to see you there!
From: Jim Henrichs, M.Ed.
Director of Enrollment Services and Campus Information
Northeast State Community College
2425 Highway 75, PO Box 246
Blountville, TN 37617
423.354.2481
Mom's Night Out
Come for encouragement, fellowship and a tasty dinner. Bring a friend!
You DO NOT need to be a member of KACHEA to come.
Date: CANCELED. We will be rescheduling, please stay tuned.

Time: 6:30 p.m. to approximately 8:00 p.m.

Dinner: Salad (basics provided), please bring a salad topping to share.

Location: Bancroft Bible Camp, 141 Bancroft Private Dr, Kingsport, TN 37660

Speaker: Rena Rock, homeschool mom and administrator at Kingsport Christian Academy
Creation Museum & Ark Encounter
The Creation Museum & Ark Encounter are set to REOPEN on June 8, 2020.
Date: Not a specific field trip - just the information
Time: n/a
Location: Petersburg, KY and Williamstown, KY
Prices: Kids 10 and under FREE in 2020!!
Contact: See all the details here:
https://creationmuseum.org/tickets/ and https://arkencounter.com/tickets/
Homeschool Skate
Day: Currently Not Open but normally every Wednesday
Time: (PLEASE NOTE THE NEW TIME) 10:30 a.m. — 1:00 p.m. - come for part or all of the time.
Christian and Family-Friendly Music!
Prices:
Please Note - It is the same price whether you stay just 1-2 hours or the whole time.
$5 per skater up to 3 siblings, $3 each additional sibling over 3 siblings:

$5 one skater; $10 two siblings skate; $15 3 siblings skate

$18 4 siblings skate; $21 5 siblings skate; etc.
$1.00 slices of pizza; Unlimited refills on beverages
Contact: Please contact Debbie Williams of Bristol Skateway with any questions.
https://www.facebook.com/SkateBristol/
https://www.bristolskateway.com/
(423) 968-9680
Location: 210 Skateway Drive in Bristol - Behind the old Kmart off West State Street
WonderWorks in Pigeon Forge - Homeschool Discount
WONDERWORKS HAS REOPENED!
Homeschoolers can get a significant discount on admission to WonderWorks during May of 2020.
Individual tickets are available for $12+tax and group rates will be $10+tax/person if you have a group of 10 or more.
*Classroom activities, lesson plans, and scavenger hunts are available upon request.
*Group meals are available if scheduled 1 week in advance.
*Offer only valid during weekdays.
*You must present a homeschool ID or some other kind of documentation to box office to get the special individual rate.
*In order to get the group rate, you must call Michelle Reilly, WonderWorks Sales Manager, at 865-868-1814 prior to your visit to set up a reservation.
For details more details:
https://www.wonderworksonline.com/pigeon-forge/homeschool/
Other field trips and family fun are in the planning stages.
Check back for more!
We love getting together as a group. If you have an idea for a field trip or fun activity but have never coordinated one before, simply contact the overallfield trip coordinator, Debbie Taylor, for help and guidance in planning one.
To announce a field trip or family fun activity on the website and in the KACHEA newsletter, contact Rachel Underhill (rjunderhill@yahoo.com).