Field Trips and Family Fun
Open to all KACHEA families - See you there!
Scroll down to see them all.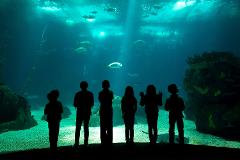 Dual Enrollment for High School Juniors and Seniors with Geneva
The Institute is building up a community of young students focused on preparing for college and deepening roots in the Christian worldview.
Geneva Scholars take up to 12 hours of dual enrollment studies including six hours of worldview centric courses such as Great Books, Critical Survey of Worldview, Psychology, OT/NT Literature. The remaining hours serve to meet important college credits in the areas of English Composition, History, Math, etc. The first seven qualified students to commit to the 2019 program will receive full scholarships
* In addition to the academic studies, the Institute serves to build a community of students working toward common goals. Students will have opportunity to fellowship through both cultural (symphonic concerts, plays, etc.) and recreational events. Requirements and Registration for the Geneva Scholars Program The basic academic requirements for participation in the program is to be a rising junior or above in high school and have a composite score of 19 or higher on the ACT (substitute qualifications may be considered).
Additional Requirements and Registration Information may be found here: Geneva Scholars and Registration
For more information contact Dean Walker at (919) 245-7016 or info@genevainstitute.org.
* Program admission requirements apply.
Indian Path Medical Center
is gearing up for their Summer Junior Volunteer Program.
This year it will run from June 10th until July 26th.
Student volunteers serve 2-8 hours a day. Most come multiple days a week.
If you are interested or if you have any questions, please email or call Andrew K. Holt, Volunteer Manager at 857-7570. He has a form that needs to be filled out.
Other field trips and family fun are in the planning stages.
Check back for more!
We love getting together as a group. If you have an idea for a field trip or fun activity but have never coordinated one before, simply contact the overallfield trip coordinator, Debbie Taylor, for help and guidance in planning one.
To announce a field trip or family fun activity on the website and in the KACHEA newsletter, contact Rachel Underhill (rjunderhill@yahoo.com).