Field Trips and Family Fun
Open to all KACHEA families - See you there!
Scroll down to see them all.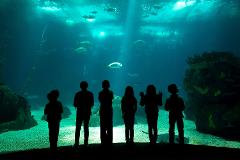 Stickley Farm Pumpkin Patch, Corn Maze and more!
Monday, October 23
10:00 a.m.
Location: Stickley Farm in Bluff City.

Website: thestickleyfarm.com
Cost: $6 per person for anyone 3 years old and up; children 2 years old and under are free.

Activities: The corn maze, seeing the animals, a hay ride, play areas, educational talks, and a small pumpkin to take home!
Details: If you plan to attend, please let Tiffany Cole know ASAP by emailing her at tcole5512@gmail.com. Include the total number of parents and children attending.
The address for Stickley Farm: 531 Timbermill Pvt Drive, Bluff City TN 37618.
But if you use GSP, input this address instead, so you don't get misdirected: 550 Beaver Creek Rd., Bluff City TN 37618.
Gray Fossil Museum
Wednesday, October 25
9:30 to 11:00 a.m.
Location: 1212 Suncrest Drive, Gray
Website: gfsm.handsonmuseum.org/
Cost: $3 each for adults and children; age 2 and under are free
Activities: Fossil site and museum exhibits
Details: Simply meet there; each family pays individually. No need to RSVP. Organized by Leslie Roller.
Holiday Entertaining and Cooking Classes
at Southwest Virginia
Higher Education Center
276-619-4300
swcenter.edu/cooking
Youth and Adult classes available starting in October. See the website for details, dates, and prices.
WonderWorks BOGO Deal
WonderWorks in Pigeon Forge is offering buy one, get one free tickets on their WonderWorks, Wonders of Magic, or Combo Tickets right now. Tickets are good through the end of the year!
This offer can only be redeemed online.
Use the PromoCode: FOMOBOGO2017
Other field trips and family fun are in the planning stages.
Check back for more!
We love getting together as a group. If you have an idea for a field trip or fun activity but have never coordinated one before, simply contact the overallfield trip coordinator, Debbie Taylor, for help and guidance in planning one.
To announce a field trip or family fun activity on the website and in the KACHEA newsletter, contact Rachel Underhill (rjunderhill@yahoo.com).