Field Trips and Family Fun
Open to all KACHEA families - See you there!
Scroll down to see them all.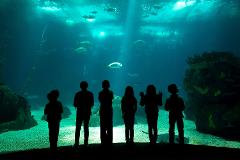 Kindergarten Graduation
May 22
First Baptist Church in Weber City, VA - 155 Shady Elm Lane
The program will begin promptly at 6:30 p.m. in the Sanctuary.
Graduates need to arrive by 6 p.m. and parents setting up need to be there between 5:30-6:00 p.m., please.
KACHEA Used Book Sale

When: Thursday, May 24, 2018
Set up starts at 5:00 pm
Sale times: 6:00-8:00 pm
Where: Holy Mountain Baptist Church
3121 Ashley Street
Kingsport, TN 37664
Who can participate: Anyone can sell or shop and there is no need to register. Just show up with your books priced. The tables are a first come/first served basis and each seller will have 1/2 to a full table, depending on participation and space.
Cost: NO COST for KACHEA members to sell, but non-members must pay a seller's fee of $5.00. (The seller's fee will be waived if you sign up for a KACHEA membership that evening.)
There will also be a free book section. Please only bring books in good, usable shape.
Contact person: Stephanie Shoaf, 423-360-5797, sixinharmony@gmail.com
There will be an opportunity to sign up for KACHEA and KACHEA's Co-op at the event. (The non-member seller's fee will be waived if you join KACHEA that night.)
Other field trips and family fun are in the planning stages.
Check back for more!
We love getting together as a group. If you have an idea for a field trip or fun activity but have never coordinated one before, simply contact the overallfield trip coordinator, Debbie Taylor, for help and guidance in planning one.
To announce a field trip or family fun activity on the website and in the KACHEA newsletter, contact Rachel Underhill (rjunderhill@yahoo.com).