Field Trips and Family Fun
Open to all KACHEA families - See you there!
Scroll down to see them all.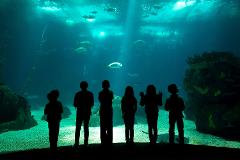 ETCG (East Tennessee Cheer & Gymnastics)
Black Friday Sleepover
Date:
November 23, beginning at 8 p.m. through November 24 at noon.
Cost: $45 per child; save $5 if you give ETCG a positive review on Facebook
Interested families can register by calling ETCG at 423.230.1400 or by emailing etcg1gym@gmail.com or visiting their office.
Christmas Parade!

Date: December 2nd

We would like to see how many homeschoolers would be interested in a homeschool float for the Christmas parade. We would also like to know if anyone would have a trailer/truck for such an endeavor.
For those who are interested, please contact Leslie Roller at 423-571-0552 soon. Thanks!
Intercity Ballet Presets The Nutcracker
Date:
School performance - December 6th
Time:
(expected to be) -
10 a.m.
Location:
Toy Reid Eastman Employee Center
Cost:
Students and
Parent teachers are both free.
Other adults (grandparents and such) are
$5.
Details:
There are 25 seats reserved for KACHEA. Text Debbie Taylor at 423-429-1033
to make reservations
.
Other field trips and family fun are in the planning stages.
Check back for more!
We love getting together as a group. If you have an idea for a field trip or fun activity but have never coordinated one before, simply contact the overallfield trip coordinator, Debbie Taylor, for help and guidance in planning one.
To announce a field trip or family fun activity on the website and in the KACHEA newsletter, contact Rachel Underhill (rjunderhill@yahoo.com).